Complete Story

10/11/2019
045 INNOVATE! How to Create Relevancy in the Age of Rapid Change
Presenter: Dirk Beveridge
Date: Wednesday, March 11, 2020

Time: 8:00-11:30 am

Level of Complexity: Intermediate
Course Description: Beveridge's research for the NAW's Institute for Distribution Excellence discovered that 76% of leaders throughout distribution believe we are living in an environment we could call the Age of Disruption. And in this age of disruption, 85% feel they need to reinvent their business before someone else does. But as you continue to operate the business for today, how can you unleash the spirit of innovation to build a relevant, stronger, and more profitable future? In this inspiring and research-based course, you will explore The Innovative Distributor™ framework that provides a practical model for creating transformative and innovative change.
Learning Objectives:
Construct a vision that becomes a unifying force for change
Develop a culture of innovation and excellence
Distinguish your business through an innovative value proposition
Examine your business model relevance
Identify your leadership readiness along the spectrum of distributors
Dirk is the leading advocate of change and innovation throughout wholesale distribution. He delivers a new voice, a new energy, and a new outlook. He founded UnleashWD in 2012 after he noticed the trend of innovation bypassing wholesalers and distributors. UnleashWD is now setting a bold agenda for the 300,000 distributors in the country.
---
Bookstore
Mary Kelly, PhD, Commander, US Navy (ret)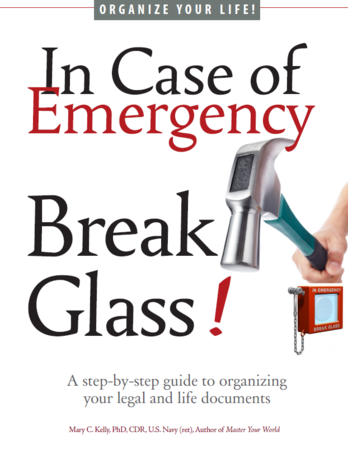 If you had to evacuate, would you be able to grab all of your important papers in less than a minute? If something happened to you, would a trusted friend or family member be able to take care of your family, business, and other obligations? Simplify the process of organizing and understanding your most important documents, and make it easy on other people in case you cannot act on your behalf.
Does your family know what to do in case something happens to you?
Do you have a process in place for what happens next?
Who takes care of your children, your parents, and the dog and cat?
This manual makes everything easy! The In Case of Emergency, Break Glass! book walks you through the details you need to have in place to take care of your friends, family, and business responsibilities. Topics include: Letters of Instruction, Wills, Trust, Powers of Attorney, Health Care Directives, Finances, Insurance, Memorial details, and caring for children, seniors, and pets. Make your family's most difficult time easier by getting this done!

Buy Now