Complete Story

10/11/2019
052 Playing the Long Game in the 4th Quarter of Your Career
Presenter: Dirk Beveridge
Date: Wednesday, March 11, 2020

Time: 1:00-4:30 pm

Level of Complexity: Advanced
Course Description: In the midst of their 4th quarter, 62% of distribution leaders question if their business has a clear path forward for long-term sustainability. Clear path forward or not, it is in the 4th quarter when you set the trajectory for the business way beyond your playing days. This course is designed for those leaders in the 4th quarter of their career who are playing the long game, in a short-term world. You will discover a success path of clarity, capabilities, and confidence that ensures during this 4th quarter you position your business for long-term sustainability and success.
Learning Objectives:
Design the foundation of future success through purposeful values and beliefs
Minimize uncertainty by aligning your team around a clear and strategic path forward
Evaluate your business capabilities against what the market of tomorrow will demand
Build the discipline to make decisions and investments for long-term generational results
Dirk is the leading advocate of change and innovation throughout wholesale distribution. He delivers a new voice, a new energy, and a new outlook. He founded UnleashWD in 2012 after he noticed the trend of innovation bypassing wholesalers and distributors. UnleashWD is now setting a bold agenda for the 300,000 distributors in the country.
---
Bookstore
Tim Horan, Steve Deist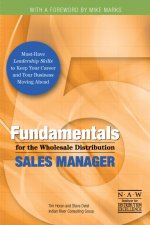 This book, by Tim Horan and Steve Deist, offers a practical but powerful approach for taking your sales force to the next level. It includes key concepts, practical ideas, and real-world stories taken from the front lines of wholesale distribution. This book will give you the essential leadership skills to keep your career and your business moving ahead and performing at higher levels.