Complete Story

10/11/2019
022 Personnel Productivity Improvement: How to Practice No Surprise Management
Presenter: Kathryne Newton, Ph.D.
Date: Monday, March 9, 2020

Time: 1:00-4:30 pm

Level of Complexity: Intermediate
Course Description: In this follow up to Personnel Productivity Improvement: Strategic Recruitment & Onboarding, we will continue with the systems approach to maintaining a productive work environment for your employees.
Learning Objectives:
Dealing with Change; why is it difficult, what are tools for improving change management
Improve your climate with improved communications
Dealing with Conflict; what is it, types of, and how to deal with it to your advantage
Setting expectations to get the most from your employees
Importance of zero tolerance for poor management
Kathy is a Professor, Supply Chain and Sales Engineering Technology and Associate Dean for Graduate Programs and Faculty Success, Purdue Polytechnic Institute at Purdue University. She also serves as Advisor for the University of Innovative Distribution Executive Management Conference, appointed September, 2005.
---
Bookstore
Pradip Krishnadevarajan, Senthil Gunasekaran, F. Barry Lawrence, Ph.D., Brijesh Rao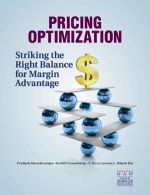 Forward-thinking wholesaler-distributors who strive for above-average returns in the "New Normal" by leveraging pricing optimization best practices that are rooted in sound analytics must read Pricing Optimization: Striking the Right Balance for Margin Advantage!