Complete Story

10/11/2019
015 Distribution in a Post Amazon World
Presenter: J. Michael Marks
Date: Monday, March 9, 2020

Time: 8:00-11:30 am

Level of Complexity: Advanced
Course Description: There will be digital versions of relationship and trust, there will be digital versions of order fulfillment and service, and there will be digital versions of capital structures and cash, and perhaps even Bitcoin or its replacement. There will even be digital versions of companies. Yet, we are still analog beings living in an ever-increasing digital world. A manufacturer can eliminate a distributor in their channel, but they can't eliminate the work and services they provide. This course explores the forces of changes at work and explores several scenarios that may occur as a result.
Learning Objectives:
Lead a discussion within their own firm on how the forces of change may play out in their market to support competitive positioning
Use the insight from these emerging trends to guide future investments increasing or strengthening their value propositions for customers
Understand their own business model that underlies any strategy and recognize structural weaknesses that exist in the old school distribution models
Michael is a dynamic speaker, popular business author, and both an NAW Research Fellow and the Managing Partner of the Indian River Consulting Group. The boutique firm has worked with distributors of all sizes up to those over $40 billion in revenue per year. Mike sits on the boards of several distributors and provides arbitration and expert witness services for manufacturers and distributors in contract disputes.
---
Bookstore
Paul Reilly, Tom Reilly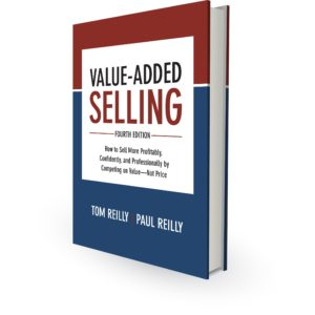 "Value" is about more than just price. Good salespeople understand that and know what differentiates their products from that of competitors. In the first edition of Value-Added Selling, industry guru Tom Reilly tackled the most common problem that salespeople faced: overcoming customer concerns about pricing. That book went on to become the global, go-to guide for value-added selling. Since then, the industry–and the world―has changed dramatically. Developments in technology, including price comparison apps and search engines, now provide consumers with more information than ever, making it much harder to value and sell your product. Additionally, millennials, who now comprise the largest population in the workforce, prefer to do things differently than prior generations. This updated fourth edition of Reilly's classic guide examines the latest trends and technology that have impacted the market and provides expert advice on leveraging current technology to increase sales.


Value-Added Selling, 4th Edition offers proven strategies and tactics to help you not only close more sales but improve repeat business without compromising on price. You'll learn how to anticipate the needs, wants, and concerns of buyers from the very beginning of the sales process. The book shows how to compete more profitably by selling value, not price.