Complete Story

10/11/2019
049 Buying or Selling a Distribution Business? Here's What You Need to Know.
Presenter: Jim Miller
Date: Wednesday, March 11, 2020

Time: 8:00-11:30 am

Level of Complexity: Foundational
Course Description: if you're thinking about buying, you need to know X … and if you're thinking about selling, you need to know Y. This course is designed for distribution business owners who are considering either option and managers who may or may not be a part of those transactions. Also for vendor executives who will be directly or indirectly impacted by the sale of distribution companies in their supply chains. The course will dig into the forces that are driving these decisions, types of full or partial sales, and the potential resultant impacts on the supply chains. We will touch on some common post-transaction considerations & mistakes.
Learning Objectives:
Forces driving the historical & continued consolidation in the supply chains
Alternatives for full or partial business sales
Tactics to handle the impact on personnel
Understand the potential impacts on the vendors' supply chains
Jim has over a decade of wholesale distribution financial advisory experience. During that time, he worked with more than two dozen leading wholesale distributors, including over a dozen "top-100" distributors in various market segments. He also worked intensively with acquirers of distribution organizations providing comprehensive industry searches, company screening, and due diligence services such as competitive analysis, profitability enhancement evaluation and growth opportunities review to corporations and private equity funds as they considered distribution-related investments. Following his decade of advisory experience, Jim co-founded Supply Chain Equity Partners, the only private equity firm in the U.S. that was founded and built by distribution veterans and invests solely in distribution companies. SCEP has invested in 39 distribution companies since 2008.
---
Bookstore
Tom Reilly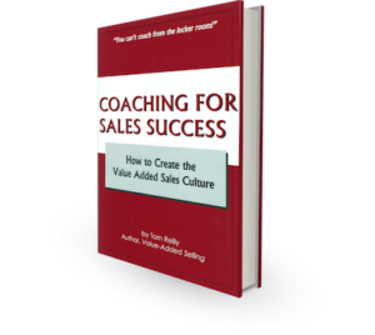 Coaching for Sales Success provides sales managers with a model for building the value added sales culture. As they read this book, they learn to think, plan, and execute strategically.
This book begins with a culture-building exercise to help sales managers develop a core focus. Each chapter builds on the previous chapter, as it helps sales managers construct a value added sales management infrastructure around this core focus.
By the time sales managers complete reading this book, they will have completed a strategic planning exercise to guide their sales organizations to success. The last section in this book offers sixteen follow-up training exercises to help sales managers prepare their salespeople for the rigors of Value-Added Selling.
These are the main topics in this book:
* Create the value added sales culture
* Hire the right people
* Set goals that motivate
* Train your salespeople for success
* Pay for performance
* Motivate your salespeople
* Coach your salespeople to success
* Coach your team to succeed