Complete Story

10/11/2019
018 Emotional Intelligence for Sales Success
Presenter: Colleen Stanley
Date: Monday, March 9, 2020

Time: 8:00-11:30 am

Level of Complexity: intermediate
Course Description: Emotionally intelligent salespeople are great at building relationships, handling pressure and bouncing back from setbacks and failures. When meeting with challenging prospects and customers, emotions often start running the sales meeting rather than effective selling and influence skills. Participants will learn key emotional intelligence skills that produce hard sales results. Skills such as such as emotion management, self-awareness, empathy, assertiveness, delayed gratification and stress management.
Learning Objectives:
Learn the neuroscience of emotional intelligence and avoid fight or flight responses during challenging sales conversations
Discover how to sell to the real buyer in any selling scenario, the prospect's 'reptilian brain'
Discover how underdeveloped emotional intelligence skills affective a salesperson's ability to consistently execute the right selling behaviors
Improve a salesperson's ability to read the emotional temperature of prospects and customers. Stop missing the meeting after the meeting.
Develop soft skills that build resiliency, accountability and sustainable sales results.
Colleen is president and founder of SalesLeadership a sales development firm. She is the author of Emotional Intelligence For Sales Success, now published in six languages. Her newest book, Emotional Intelligence For Sales Leadership, will be published in May, 2020, by Harper Collins.
---
Bookstore
Senthil Gunasekaran, Pradip Krishnadevarajan, F. Barry Lawrence, Ph.D.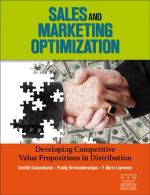 Sales and Marketing Optimization: Developing Competitive Value Propositions in Distribution is a first-of-its-kind, best practices study that focuses on aligning customer needs, sales force priorities, and wholesaler-distributor objectives to maximize value creation.