Complete Story

10/11/2019
003. Tool Up: How to Select, Implement, and Manage Software so Your Technology Works for You
Instructor: Anne Patterson
Sunday, March 14, 2021, 8:30 – 11:30 a.m.
Today's Small to Medium Enterprises (SME's) have an unprecedented selection of software solutions. And cloud-based hosting has virtually exploded the number of options. But with the plethora of alternatives comes the challenge: how to select the solution that best fits your company's needs? And once selected, how to implement – without bleeding the organization's budget and bandwidth? And once implemented, how to leverage to move the needle on operational performance? These are the three questions covered in our course. Learn how to make technology work for you, not the other way around - which so often seems to be the case.
Anne Patterson

Anne's career spans sales operations, planning and distribution in multi-national companies, including the use and implementation of enterprise IT systems on a global scale. A respected project manager, inventory practitioner, and enthusiastic teacher and team-builder, her passion is linking people, processes, and technology.
---
Bookstore
Mark Dancer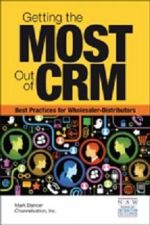 Experienced wholesaler-distributors say CRM (Customer Relationship Management) is fast becoming a standard practice. More than that, it's becoming an essential tool for managing a high-performing distribution sales organization.