Complete Story

10/09/2012
Paul Krismer
Paul has a proven 20-year track record as a Safety and Disability Management leader.
Within a workers' compensation system, Paul excelled in multi-faceted senior management roles. Early in his career, he spearheaded a total reform of underwriting systems at WorksafeBC, resulting in the creation of a pricing model that directly reflects safety outcomes.
Paul has led groups of more than 200 professional disability management staff. As an Executive Account Manager and team lead, he served as a consultant to high risk and high claims volume employers and industries, introducing innovative and powerful interventions. Few leaders have as much, and as varied, experience in the field of workers compensation as Paul does.
---
Bookstore
F. Barry Lawrence, Ph.D., Senthil Gunasekaran, Pradip Krishnadevarajan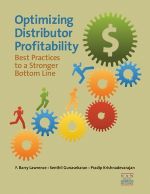 There are 47 best practices in Optimizing Distributor Profitability: Best Practices to a Stronger Bottom Line and all were developed from actual experiences of 84 real wholesale distribution firms across our industry. This groundbreaking research study is not academic modeling or theory; it is a powerful weapon for you to use to enhance your shareholder value.