Complete Story

10/25/2017
Andrew Johnson
Andrew, CEO of ShelfAware, is an entrepreneur, inventor, and business owner. Formerly the sales manager at the family distribution company, O-ring Sales & Service, he is now pursuing a new endeavor, a tech startup called ShelfAware, which is attempting to redefine industrial distribution by leveraging RFID technology, the internet, and the power of data. He is also lucky to work with his three equally talented and passionate brothers.
---
Bookstore
F. Barry Lawrence, Ph.D., Senthil Gunasekaran, Pradip Krishnadevarajan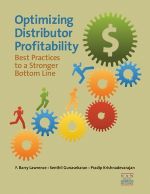 There are 47 best practices in Optimizing Distributor Profitability: Best Practices to a Stronger Bottom Line and all were developed from actual experiences of 84 real wholesale distribution firms across our industry. This groundbreaking research study is not academic modeling or theory; it is a powerful weapon for you to use to enhance your shareholder value.