Complete Story

10/11/2019
026 Updating Your Leadership Toolbelt (Full)
Presenter: Julia Kalish, Ph.D.
Date: Monday, March 9, 2020

Time: 1:00-4:30 pm

Course Description: Are you drowning in data, juggling too many roles, failing to convert thoughts into actions, or straining to manage conflicting priorities? This dynamic, interactive presentation will introduce you to interdisciplinary tools, pragmatic models, and helpful hacks from the areas of decision making, project management, Lean/Six Sigma, and goal-setting. You will walk away with a unique framework from which you can leverage best practices from numerous fields to create innovative and lasting solutions.
Learning objectives:
Leverage best practices of numerous fields.
Form one cohesive framework for solving problems and promoting innovative thinking.
Saying NO without burning bridges or missing valuable opportunities
Julia has been a continuing lecturer Notre Dame's Mendoza College of Business, Purdue University's Krannert School of Management, Purdue's Polytech Institute, and Loyola University Chicago. She was the recipient of the Best Professor on Campus Reader Choice Award at Purdue, Best Undergraduate Teacher at Krannert, and an Honorary Purdue Old Master. She is a Project Management Professional, Lean Six Sigma Blackbelt, Army veteran, speaker, writer, thought leader, sleep advocate, defender of the Oxford comma, and a "NO" enthusiast.
---
Bookstore
Jaynie L Smith
Think you know your company's competitive advantage? Think again.
Why should I do business with you … and not your competitor?
Whether you are a retailer, manufacturer, distributor, or service provider – if you cannot effectively answer this question, you may be missing the opportunity to maximize your potential customer base, client retention and margins.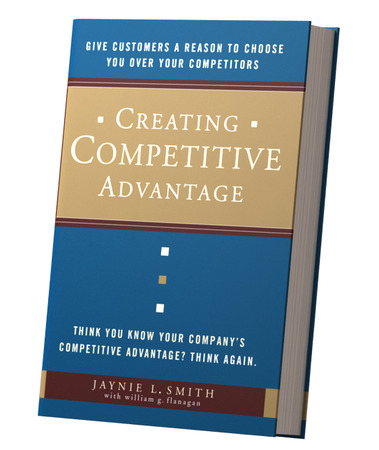 The five fatal flaws of most companies:
• They don't have a competitive advantage but think they do.
• They have a competitive advantage but don't know what it is – so they lower prices instead.
• They know what their competitive advantage is but neglect to consistently and effectively tell clients and prospects.
• They mistake "strengths" for competitive advantages.
• They don't concentrate on competitive advantages when making strategic and operational decisions.
Creating Competitive Advantage reveals that identifying and touting competitive advantages – based on your customer's perspective – is statistically proven to help your company's marketing and sales teams close more deals, at higher margins, and stay miles ahead of the competition.

Buy Now